Groundwater Mounding
AQTESOLV Advantage
Only AQTESOLV features a tool for simulating the transient rise of the water table beneath rectangular or circular recharge areas using Hantush (1967) solutions.
"I really like the automatic gridding link to Surfer!"
--David Dahlstrom, Barr Engineering
MOUNDSOLV

Check out our new software product,
MOUNDSOLV
, for groundwater mounding analysis in horizontal and sloping aquifers!

Check out MOUNDSOLV, our new software product featuring a recent analytical solution by Zlotnik et al. (2017) for groundwater mounding assessment in horizontal and sloping aquifers under both transient and steady-state conditions! MOUNDSOLV includes built-in visualization tools for profile, time-series and contour plots (example below) and a detailed report as well.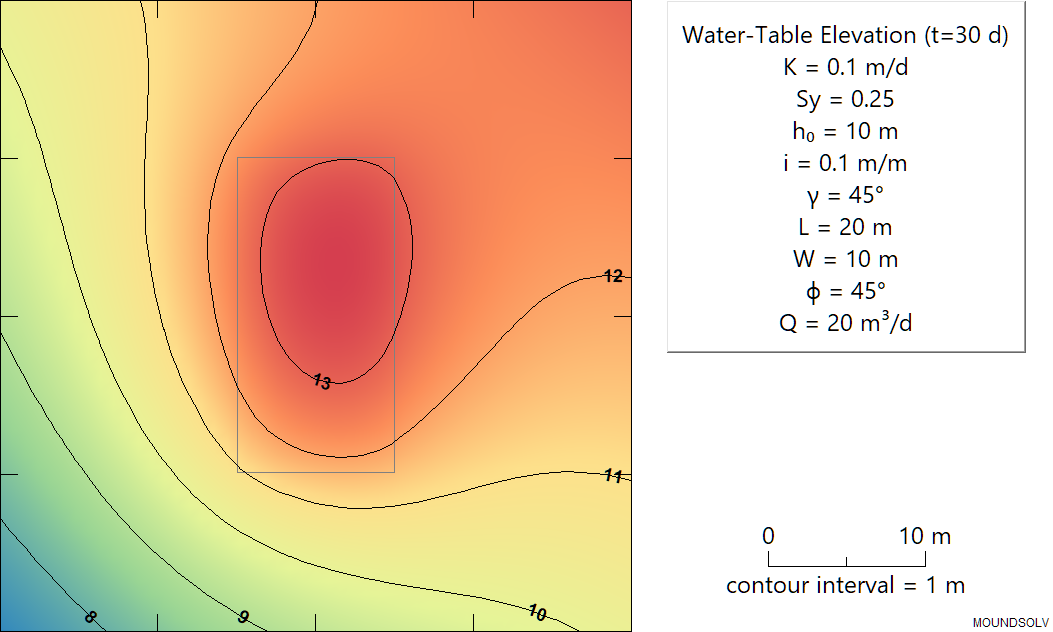 AQTESOLV (Pro version only) includes solutions by Hantush (1967) to compute the transient water-table rise (height of groundwater mound) beneath rectangular and circular recharge areas (infiltration basins or ponds).
Use the groundwater mounding tool in AQTESOLV to evaluate infiltration from recharge areas such as the following scenarios:
septic fields
stormwater retention basins
groundwater recharge systems
managed aquifer recharge
An easy-to-use wizard interface lets you to create grid files for use with external contouring software. If you have Surfer (v 6 or higher), AQTESOLV automatically displays a contour plot of a groundwater mound for you!