Product News
November 15, 2012
What is the best pumping test analysis software? Groundwater professionals, responding to a recent poll on LinkedIn, overwhelmingly chose AQTESOLV as their preferred software for pumping test analysis (see our AQTEBLOG post as well).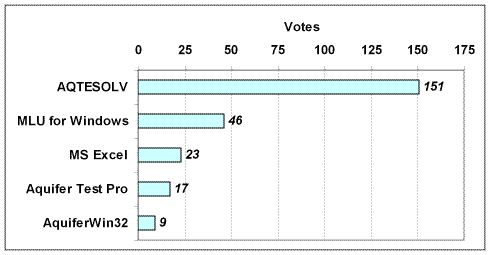 Here's a sample of the comments posted by participants in the poll who voted for AQTESOLV as their preferred pumping test software:
"AQTESOLV [has] a great solution set with real flexibility."
"AQTESOLV is not only a great solution but is user friendly and has great customer support that comes along with it."
"AQTESOLV is the industry's standard. Glenn D[uffield] does a great job with continuing updating and improving an already superb product."
"AQTESOLV is a fantastic tool. Easy to use, informative help documentation, and great customer support."
"Totally agree with the other commenters [regarding AQTESOLV]. Glenn [Duffield] has built a wonderful product that is both powerful and user-friendly. Oh, and speaking of friendly, if a person has a question about the software, Glenn is very quick to provide help, either by phone or email. Great product, great customer service. What more could you want?"
"AQTESOLV works for me...."
"AQTESOLV spans the universe of practical hydrogeology tools for aquifer test analysis, easy to use, great documentation, great support.....hav[e] been using it forever. GREAT product!"
"AQTESOLV without question!"
"Great product and unbeatable support. My choice by far."
"Absolutely AQTESOLV. I would never try anything else because I can't imagine any problem that Glenn Duffield couldn't help me solve!"
"I believe that AQTESOLV is built for ground water professionals at all skill levels....and is the only software capable of serving advanced-level hydrogeologists. Glenn Duffield created AQTESOLV and has provides me world-class customer service when I have questions about solutions and software."
"I have have been using AQTESOLV and collaborating with Glenn Duffield since the early 90's. Can't imagine working with any other program."
"Have been using AQTESOLV since the 90s. Outstanding package and great support!"
"I have used AQTESOLV for a few decades. I like it. I have also seen and briefly used one of the competitors, which seemed OK. It wasn't better; I was not motivated to change."
"AQTESOLV just keeps evolving, offering a wide range of analytical solutions. And Glenn has been very responsive in providing support when needed."
"I too have been collaborating with Glenn Duffield for decades and have consistently obtained excellent results using AQTESOLV. Excellent software and unparalleled tech support. I see no benefit to trying other aquifer analysis software."
"I consider AQTESOLV to be the best computer software for aquifer analysis. Glenn Duffield continues to improve his software and provides excellent customer support."
"No contest. AQTESOLV."
"AQTESOLV and it's not even close."
"I have also been working with Glen[n] Duffield for over a decade using AQTESOLV for analysis of a wide variety of test datasets. I especially appreciate the ability to easily search for and optimize a solution by directly varying the starting point for parameters in automated fitting so as to explore the uniqueness of the solution."
Thanks to everyone who voted in the poll and for all of the kind words!
AQTESOLV is the most advanced slug test analysis software tool, too!