What Is
AQTESOLV?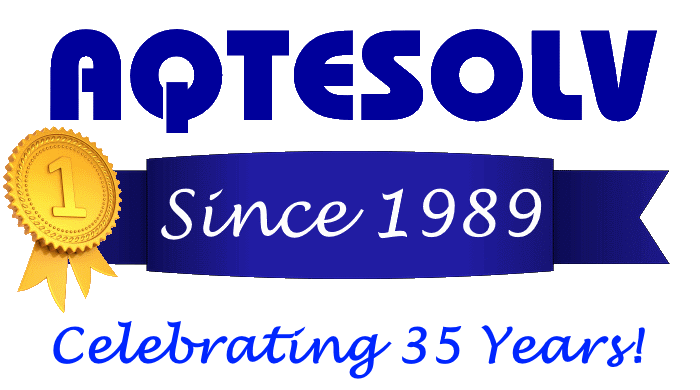 AQTESOLV (AK-te-solv

) is the world's leading software for the design and interpretation of aquifer tests (pumping tests, slug tests, constant-head tests) in confined, leaky, unconfined and fractured aquifers.
Since 1989 AQTESOLV has been synonymous with excellence in the interpretation of aquifer test data. In fact, groundwater specialists responding to a LinkedIn poll overwhelmingly chose AQTESOLV as their preferred pumping test analysis software!
Why Choose
AQTESOLV?
All-In-One
Package
AQTESOLV is the original all-in-one software package for the evaluation of data from pumping tests, slug tests and constant-head tests.
Cutting-Edge
Tools
AQTESOLV provides the most complete set of software tools for aquifer test design, interpretation and prediction.
Pumping
Tests
Slug
Tests
And
That's Not All
Versions, Demo and
System Requirements
Standard And Pro
Versions
Choose the version of AQTESOLV that's right for you:
Standard version for a basic set of solution methods comparable to competing software
Pro version for the most advanced features for the design and analysis of aquifer tests
Take A
Test Drive
Find out for yourself how easy AQTESOLV is to use!
System
Requirements
Windows 8/10/11 (32- or 64-bit)
6 MB free hard disk space
64 MB RAM (minimum)
Affordable
Pricing
Commercial Pricing
Click one of the Buy Now buttons to make a secure online payment for a commercial license today:
Upon receipt of payment, HydroSOLVE, Inc. will send you an email with instructions for downloading and installing the software.
A single-user license allows use of the software on one computer. A site license allows unlimited use of the software in one physical office location of your company/organization.
Academic Pricing
AQTESOLV/Standard/Single-User: $400
AQTESOLV/Standard/Site: $500
AQTESOLV/Pro/Single-User: $500
AQTESOLV/Pro/Site: $750
Academic pricing is available to colleges and universities using AQTESOLV for teaching purposes and full-time students.
No annual maintenance fees!
All prices in US dollars (USD). Prices subject to change.
What People
Are Saying
Industry Standard
Interpretation Tool
"AQTESOLV is the industry standard for the interpretation of aquifer tests."
Dr. Joe Donovan, West Virginia University
Easy-To-Use
Software
"I chose AQTESOLV for its ease of use."
David Preston, P.E., Peachtree Environmental
Leading The
Competition
"I also tested [a competitor's product], but found AQTESOLV to be much more intuitive, stable and just plain fast."
Tom Davis, Fletcher Driscoll & Associates LLC
World-Class
Support
"The support for AQTESOLV is unparalleled."
Harm Maathuis, Saskatchewan Research Council
MOUNDSOLV
Version 4 Is Now Available!
Groundwater
Mounding Analysis
MOUNDSOLV is our new software product that predicts water-table rise (groundwater mounding) beneath rectangular and circular recharge sources.
Transient and
Steady-State Models
Use MOUNDSOLV to simulate the growth of a groundwater mound under either transient or steady-state conditions in horizontal or sloping aquifers.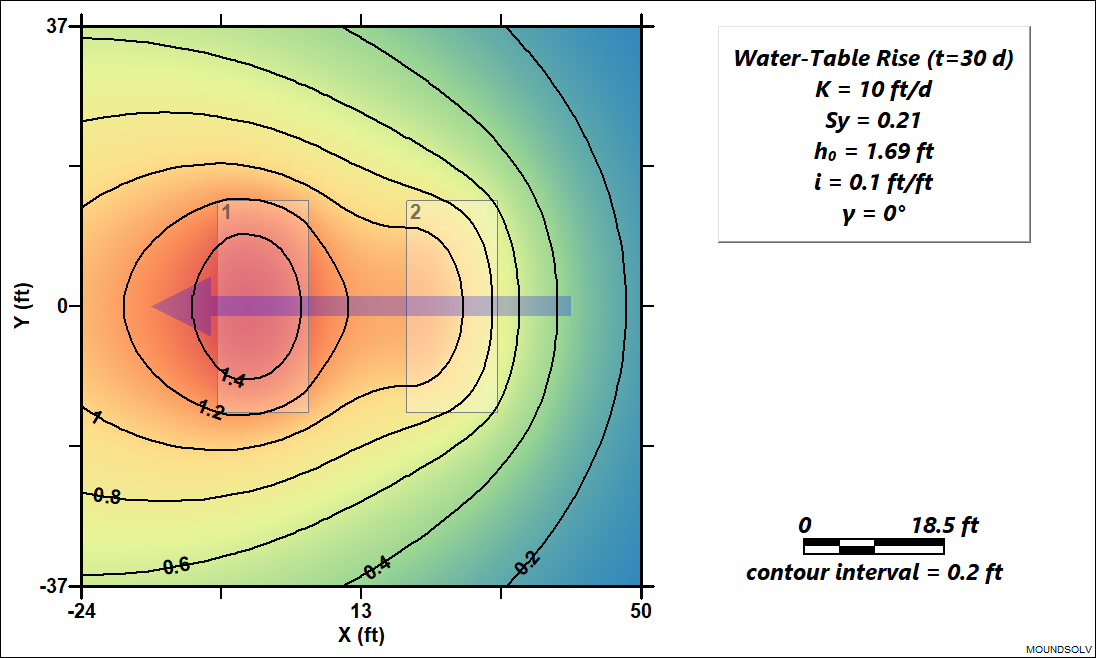 Contours of water-table rise showing mounding from two rectangular recharge sources overlying a sloping unconfined aquifer (graphic exported directly from MOUNDSOLV).
New features in MOUNDSOLV v4 include multiple recharge sources, transient solution by Hantush (1967) for circular recharge sources, sensitivity analysis and other enhancements.
MOUNDSOLV is a standalone software product and functions fully without a copy of AQTESOLV or any separate graphics software.